★★★½
Ladj Ly's bursting feature debut Les Misérables – France's official entry and nominee for this year's International Feature Oscar – is an observant production. It coils the pillars of power in a divided Parisian neighborhood and watches how quickly they collapse on top of one another. In doing so, the film does a couple of very important things: not only does it expose the curling sense of rage amongst its civilians, as well as the illusion of authority separating their so-called leaders, but it makes a scrupulous and successful effort to repurpose a Lincoln-era novel for the modern times.
Expanded from Ly's 2017 short film of the same name (whose cast mostly made the jump to the silver screen) and inspired by the 2005 riots that nearly erupted underneath the director's feet, Les Misérables grooms itself with the same veins of an earthquake. Returning to the French suburb of Montfermeil where Victor Hugo first observed and described the tangible aura of injustice, the film's abuse-induced woes are captured through a tactical lens, sweeping and shaking against the raw energy of its narrative's captives.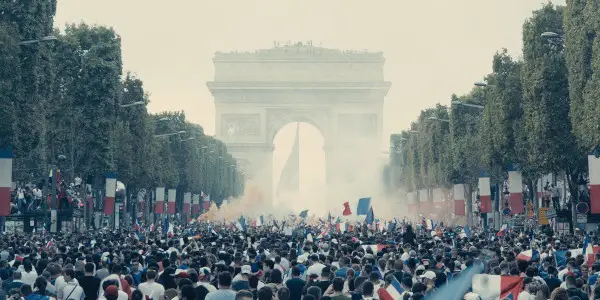 Set in the present day, over 150 years after the original novel was published, this contemporary drama is similarly fueled by disgusting inequality, aggressive assertions, and, most importantly, bureaucratic absence. As it turns out, this tale is as old as time, even if its most recent rendering is propelled by drones.
No, Not That One (Entirely)
Though it noticeably bears the title of Hugo's seminal 1862 book which bounded suppression and obsession, Les Misérables garners little outward resemblance to the journey of Jean Valjean and his stolen loaf of bread. That being said, the references between the two are there, and they are both subtle and unmistakable.
In the literary version of Les Misérables, Montfermeil served as the grounds for the thieving Thénardier's inn, the childhood home of street runt Gavroche. That character can easily be rearranged to fit Issa (Issa Perica), a young troublemaker who launches the film with a wave of exhilaration and optimism. Hopping the train to the center of Paris, Issa and his friends merge into an ocean of mayhem and tricolor flags, taking to the streets just as France wins the World Cup.
This breathtaking prologue is the only triumphant moment of unity offered by Les Misérables. Soon after, Issa's brought back to his reality in Montfermeil, a grueling routine scaffolded by the rising tensions between the neighborhood's Muslim community and the city's anti-crime police. The film hones in on a detail of three such officers to introduce its brewing social crescendos and lurks behind as they, in only a day and a half, manage to break the commune's boiling point.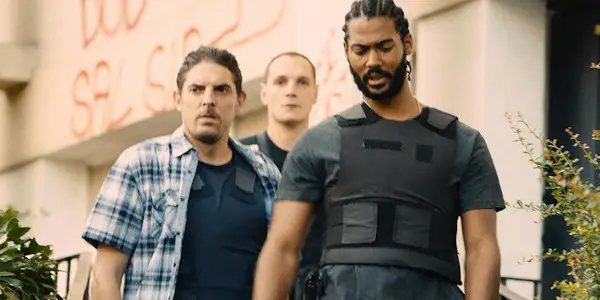 There are two veterans on the squad: Gwada (Djebril Zonga), a bilingual native whose solemn nature makes him the good cop to Chris' (co-writer Alexis Manenti) bad cop. The direct opposite of his partner, Chris is a hotheaded white Frenchman who sums up his philosophy of patrolling after the trio's first routine stop (which incidentally involves violating three girls' basic rights and sexually assaulting one of them): "Never sorry; always right."
And on this tumultuous day, they have the added benefit of indoctrinating a fresh face into their crop: Corporal Ruiz (Damien Bonnard). A veteran officer from the countryside, Ruiz's sense of duty is more righteous than his urban comrades. That being said, while he later calls his first shift one of the worst days of his life, the extent of his objections rarely breach practice. Watching him on patrol as he learns the lay of the land, one wonders how long it will take for that tendency to ask good-natured questions to rub away.
And The Walls Came Tumblin' Down
Soon after the officers' regular routes introduce the top brass of Montfermeil's social fixture – which includes a boss called "the Mayor" (Djibril Zonga), the actively recruiting Muslim Brotherhood, and a spiritually reformed criminal named Salah (Almamy Kanouté) – a lion cub is stolen and threatens to send the neighborhood all the way back to 2005. While it doesn't take long for Issa to reveal himself as the culprit, it perhaps takes even less time for the three policemen to blow the misdemeanor completely out of proportion.
Time and time again, history and film have both shown that in a high-tense situation boxed between fearful cops and fearsome teenagers, anything can happen. And it does. On top of that, the narrative experiences another jolt of energy when the cops discover that the act was captured on video by a drone; it's a homegrown nuke.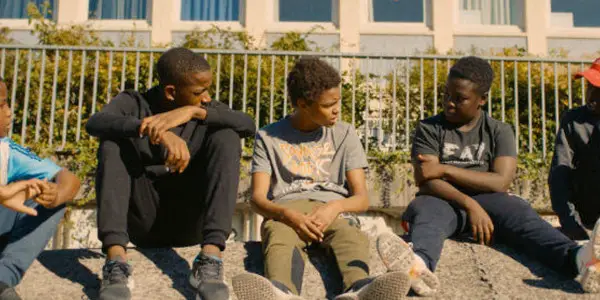 Also serving as the film's screenwriter alongside Manenti and Giordano Gederlini, Ly slickly navigates through the neighborhood's meandering operators and opens the audience up to an expansive and deeply complex culture. The streets and backlots of Montfermeil are quickly filled by sleazy deals and flat pleas. So, by the time Les Misérables has anxiously steered its way towards its firebomb climax – complete with several stories of barricaded stairwells – the characters, in relation to their environment and their desperations, are more than aptly built.
Les Misérables: A Worthy Debut
Beyond its clear feats for being a feature debut, Les Misérables is an urgent urban masterpiece. Though Ly's tendency to fall back on other incendiary and important productions – not the least of which is Spike Lee's Do The Right Thing – falls in line with the typical impulses of many first-time filmmakers, this powder keg of a film rarely feels short of exploding.
Bloodthirsty thrillers basked in nauseating intensity and contemporary awareness are hard enough to come by, but for Les Misérables to also be earnest and heartbreaking is nothing short of an entertainment achievement.
by Luke Parker
originally published via Film Inquiry